Creating your own hair accessories is a wonderful way to add a personal touch to your look. The hair jewelry can be fancy or elegant – depending on the desired look and the matching outfit!
---
Introduction: The trend of homemade jewelry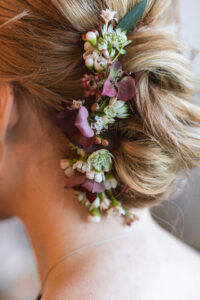 Homemade jewelry is not only unique, but also individual to your own look. The trend for homemade jewelry has become increasingly strong in recent years and offers a variety of options. From classic pearl necklaces to fancy earrings, everything is possible. Even with hair jewelry, there are numerous ideas that can be easily implemented at home. Accessories can be purchased quickly and easily in wholesale jewelry stores.
Materials and tools
To create hair jewelry yourself, not much equipment is needed. Often, all that is needed is a pair of scissors, a hot glue gun and hair clips or bobby pins, which themselves do not yet have any decorations and in the best case have a small area for gluing stones or beads. Then all you need are some beads or shells and you're good to go! The beads and shells can be integrated into the hair jewelry creations as you like.
Step-by-step instructions for different designs
There are different styles to create your jewelry:
Elegant
For an elegant design, either real pearls or a fabric Kanzashi flower can be used with a beautiful pearl placed in the center. Kanzashi flowers can be made by yourself with a little practice. They make an outfit look especially elegant when the flower is made of the same fabric as the dress or blouse, for example!
Maritime
Maritime hair ornaments are suitable for a summery look. Either self-collected shells are used for this or shells are purchased. For a special look, organza ribbons can be incorporated between the shells.
Playful
For a playful look, beads in different colors and shapes are suitable. It is best to combine different matching colors. For light hair dark colors are suitable, for dark hair light colors are best.
For children
For children it is a nice idea to work with playful buttons. Buttons for children are available in animal or plant shapes, for example. These can also be glued onto a hair clip. If tinkering is done with the children, a few precautions should be observed. For example, children should rather not work with a hot glue gun. It is better to give them all-purpose glue or gemstone glue for crafting.
Source:
jackysiren – stock.adobe.com
Lilly – stock.adobe.com